I bought this spice rack awhile ago at Goodwill for $1.99. I already knew what I wanted to do with it before I even got to the checkout line. I love finding awesome things! Anyway, I took some spray paint to this...
and made this:

I used removable adhesive on the flowers, that way if I ever want to change it, I can without destroying the jars. I also want to write the word "Embellishments" across the back, however, I need to buy a paint pen, probably the same red to match the jars.
I'm planning on using this to store my smaller embellishments. With the colorful flowers, I can sort maybe brads, eyelets, or even the flowers themselves in these little jars by color!
I am linking this up to: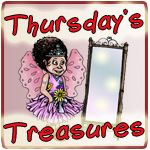 Blue Cricket Design
Someday Crafts